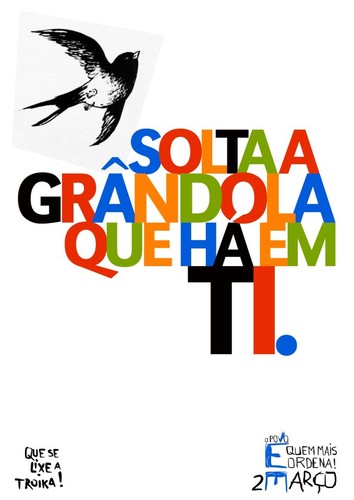 On March the 2nd, a million and a half people in portugal filled the cities' streets to the music of Zeca Afonso's Grandola Vila Morena. The song thus resonates from a historical moment in the country's imaginary, the Revolution of the 25th of April, of 1974. To give it life anew, at this moment, is to open up possibilities, is to call forth desires, which one can only share. But one week on the heels of the mareas protests in spain, the weaknesses of the mareas are multiplied in Portugal.
Over the course of the last two years, a tension animates the protest movements of many countries, perhaps nowhere more noticeably than in spain. Spain's 15M, since its inception, has been divided between tendencies that maybe characterised as citizens' protests (protests for the protection, preservation and/or extension of rights) and endeavours to create alternative forms of life against or at the margins of State-Capital. Simplifying, the former is state dependent, whereas the latter seeks the generation and multiplication of spaces of autonomy. The two tendencies cannot of course be simply opposed. But nor are they reducible one to the other. And spain's 15M has walked a precarious balance between these two, sometimes being more forcefully pulled in one direction than another. But the question of which finds greater expression remains open; thus the open, radical nature of 15M.
Portugal's protests movements remain much more domesticated. The protests are limited in time, confine themselves largely to demands from or against the government and are to some degree, at least organizationally, dependent on older political actors: the Communist Party, the CGTP, the Communist Party Labour Union, and the newer left wing party, the Left Bloc. There has yet been the evident overflow of these protests into more creative forms of contestation and insurrection. It is not yet the "people who lead", but people pressuring leaders or seeking new leaders.
The Portuguese have still to create their Grândolas …
Grândola, vila morena

Terra da fraternidade

O povo é quem mais ordena

Dentro de ti, ó cidade

Dentro de ti, ó cidade

O povo é quem mais ordena

Terra da fraternidade

Grândola, vila morena

Em cada esquina um amigo

Em cada rosto igualdade

Grândola, vila morena

Terra da fraternidade

Terra da fraternidade

Grândola, vila morena

Em cada rosto igualdade

O povo é quem mais ordena

À sombra duma azinheira

Que já não sabia a idade

Jurei ter por companheira

Grândola a tua vontade

Grândola a tua vontade

Jurei ter por companheira

À sombra duma azinheira

Que já não sabia a idade

Grândola, swarthy town*

Land of fraternity

It is the people who lead

Inside of you, oh city

Inside of you, oh city

It is the people who lead

Land of fraternity

Grândola, swarthy town

On each corner, a friend

In each face, equality

Grândola, swarthy town

Land of fraternity

Land of fraternity

Grândola, swarthy town

In each face, equality

It is the people who lead

In the shadow of a holm oak

Which no longer knew its age

I swore as my companion,

Grândola, your will

Grândola, your will

I swore as my companion

In the shadow of a holm oak

Which no longer knew its age
(* "Grândola Vila Morena" refers to "Grândola", the mentioned village's name, and a characterization of the town, "Vila Morena", meaning something like "swarthy town", "tanned town", "brown town" or "sunbaked town".)